store
The Art Sherpa French Escape Watercolor Palette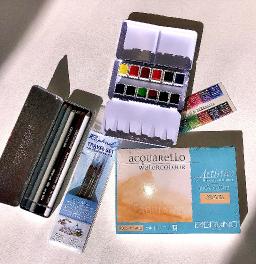 The Art Sherpa French Escape Watercolor Kit -
Click the images to left to see paintings I have done with these watercolors. 
I have hand picked some of my very favorite watercolor products to get you started on your watercolor journey. This collection is the best of my favorites for color and feel. It really is like no other. 
Featuring my favorite products for Watercoloring and travel. I can't fly on a plane without my travel kits. What is great about this is you can do every lesson I have for watercolor and still tuck this into your purse for a bit of art while on the go. 
Sennelier L'Aquarelle French Watercolor Paint
 

-Lemon Yellow (501)




-French Vermilion (675)

-Alizarin Crimson (689)

-Carmine (635)

-Dioxazine Purple (917)

-Ultramarine Deep (315)

-Phthalocyanine Blue (326)

-Forest Green (899)

-Phthalo Green Light (805)

-Burnt Sienna (211)

-Payne's Grey (703)

-Warm Sepia (440)
The colors evoke the beauty and vibrancy of Southern France
Sennelier watercolors have been formulated with increased honey content for enhanced brilliance and luminosity. The honey also acts as a preservative to extend longevity.
L'Aquarelle Sennelier has been produced in the same way for more than a century using the best pigments and top quality Kordofan Gum Arabic as a bonding agent.

Increased amount of Honey in the paint reinforces the longevity of the colors, their radiance and luminosity.

Smooth, intense colours will be a genuine pleasure to paint with.

Accurately translate the diversity of light shape and hues.

Metal Box Set features 12 Half Pans
Fabriano Artistico Extra White Watercolor Block- 5x7 Cold press. 
The Fabriano Artistico paper is mould made with 100% cotton, chlorine and acid free, guaranteeing long conservation and inalterability over time.
The paper is sized both internally and externally, making it ideally absorbent and retaining its nature unaltered even if scratched. Brilliant white.. The high quality and ample offer of this paper satisfies the requirements of all professional artists and the most demanding amateurs.
Ideal for watercolour, tempera, gouache, acrylic, ink, charcoal, graphite and drawing. It is also suitable for printmaking.
The Brushes 
Designed to create the most accurate brushstroke of any synthetic brush on the market, Raphaël Precision brushes look, feel, and deliver paint just like natural sable. They hold media extremely well yet have a snap that helps retain the brush shape from stroke to stroke. 
This four brush set includes five inch long travel brushes which are perfect for watercolors or gouache. Purse or Backpack perfect these small brushes pack a big punch!
You get:
One Round Size 1

One Flat Size 1

One Filbert Size 1
Founded in Paris in 1793 and owned and operated by the Sauer family since 1859, Raphaël is the oldest fine art brush maker in Europe. 
For extra fun we have a set of Austria's Cretacolor  6 piece drawing set. These are exclusive and have never been released . These pencils are a great tool drawing. They will be used in classes
I will be using these exact materials in future watercolor classes. You will be able to join me online on facebook and the patronage to find live step by step tutorials to help you get the most out of these tools. 
This set will be the primary set for the Patron watercolor classes. They will also be featured for Facebook free classes that are longer 2 and 3 hoot watercolor classes. 
I only put things in this set I felt you would enjoy. I feel that you will as I enjoy them so much myself.