store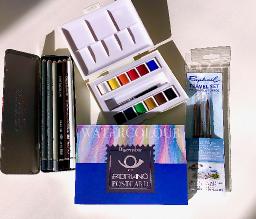 The Art Sherpa Basic Watercolor Palette.This is the beginner kit. 
Click the images to left to see what I have painted with these watercolors. 
La Petite Aquarelle Travel Box 12 Half Pans
Studio WC Postcard Pad
Raphael Travel Brush Set Rnd 01 Flat 01 & Filb 01
Austria Cretacolor 6 piece drawing set. 
For extra fun we have a set of Austria's Cretacolor  6 piece drawing set. These are exclusive and have never been released These pencils are a great tool drawing. They will be used in classes