store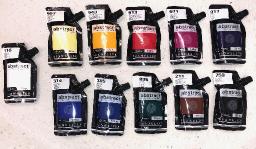 Paint only Sherpa Palette Kit  
Art Sherpa Pallet Abstract Acrylic by Sennelier 
Click the images to the left to see paintings I have done with these paints.
THIS IS ABSTRACT Paint! It is the only bruget minded paint I personally enjoy painting with. 
I have hand selected 11 Colors that will work with any of my Art Sherpa Paintings. This is a base pallet you can stick with it or you can add one of the 36 other amazing colors over time. 
Here are some fun facts about the paint 
 As it fits comfortably into your hand it's much easier to use. The pouch is so strong that you can take it with you wherever you go and, unlike a tube, it can stand up to pressure even if you accidentally step on it!

The paint is better preserved because air cannot get inside the pouch.You can use the paint completely: there is no waste and no air bubbles which may cause the paint to spill out.

With abstract, there are no surprises when choosing a colour . There's no difference between the colour you can see from the outside of the pouch and the inside.

Abstract is composed of 34 single pigment colours among the range's 60 shades.

• 36 SATIN FINISH COLOURS

• 12 HIGH GLOSS COLOURS

• 6 IRIDESCENT COLOURS

• 6 FLUORESCENT COLOURS
In this kit you get Colors I picked to give you the best results for painting with me. I will give you the list of colors and what colors they are equivalent to in my paintings. I paint with many lines of paint most often professionally so the color names will change sometimes for each brand. I tested these paints for 30 days in a row for Acrylic April 2019 
613 Cad Red Light hue ( USE anytime I use Cad Red medium, Vermillion, or Naphthol Red on any tutorial) 

671 Magenta Deep ( USE anytime I use Quinacridone Magenta ) 

543 Cadmium Yellow deep hue (  Use anytime I am using Cadmium medium) 

567 Naples yellow Light ( Use any time I use Naples yellow light or Titanate Yellow ) 

917 Purple ( Use anytime I use Dioxazine Purple ) 

385 Primary Blue ( use any time I use Phthalo Blue ) 

314 Ultramarine Blue ( use anytime I use Ultramarine Blue ) 

896 Phthalo Green ( use any time I use Phthalo Green ) 

211 Burnt Sienna ( Use anytime I use Burnt sienna or Burnt umber ) 

116 Titanium White 

759 Mars Black
Things to know about this paint. 
There is a pro line of acrylic colors so you can upgrade when and if  you want to- you wont need to though and that is the important part. Many of my students change to professional paints because the economy paint they use performs so poorly. With this paint you will change quality not because you

have to

but because you want to. A very big distinction in my mind.  




The pouch keeps your paint fresh and at 4oz is a much better deal then other economy  paints out there 

This paint is better then other student paints in my opinion 

This paint can be water sensitive. So when wetting your brush start a little less wet then you have with other paints 
You can use this acrylic with any other acrylic I paint with mix and match . I will be using these colors as my base color pallet for my future painting classes. So you can go back and do old lessons or be ready for future classes with these colors